Breakfast Ideas and Recipes
Quickest Breakfast
butter
4 eggs
salt and pepper to taste


Firstly, switch on the frying pan (skillet) and put about 1 ounce (25g) of butter in it to melt.

While the pan is heating up, get out 4 eggs, a plate and cutlery.

By this time, the butter in the pan should be melted and starting to bubble. If it is, just break the eggs into the pan and stir, using a moderate heat, until cooked to your satisfaction.

Serve and add salt and pepper to taste.

This breakfast, which is very filling, takes only about 3 minutes to prepare and will probably keep you going until well after lunchtime.

Serves 1.
Carbohydrate: None.

You'll be amazed at how much butter scrambled eggs will soak up. It is this which will keep you going. Even if you can't stand fat, you really won't notice the butter.
Featured Books
NEW BOOK
Trick and Treat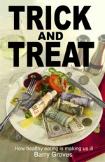 A great book that shatters so many of the nutritional fantasies and fads of the last twenty years. Read it and prolong your life.
Clarissa Dickson Wright
---
"NH&WL may be the best non-technical book on diet ever written"
Joel Kauffman, PhD, Professor Emeritus, University of the Sciences, Philadelphia, PA
---