14-Days' Menus
14-Days Menus
These menus are to give you ideas about what you can eat to take in something between 40 and 60 grams of carbs a day. If you want to go lower than this, just cut down on some of the fruit.

We don't want to prescribe what or when you eat. You can do that for yourself, to fit in with your lifestyle. If you can eat the dinner meal in the middle of the day and the smaller lunch meal later, that may well help, and there is no reason why you shouldn't. But that might be difficult if you cannot get home in the middle of the day to make the meal.

To make the meals more realistic with today's culture, I have mixed in some ready-made meals. These are based on items that can be bought in British stores, but no doubt there are similar items in other countries.

That said, it is always better, if you can, to use fresh ingredients and make the meals yourself. And this is what we would recommend.
Featured Books
NEW BOOK
Trick and Treat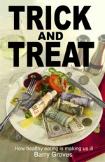 A great book that shatters so many of the nutritional fantasies and fads of the last twenty years. Read it and prolong your life.
Clarissa Dickson Wright
---
"NH&WL may be the best non-technical book on diet ever written"
Joel Kauffman, PhD, Professor Emeritus, University of the Sciences, Philadelphia, PA
---